MLSP Does It Again…Grab Your Live The Dream Event DVD's Now! Offer Ends Friday!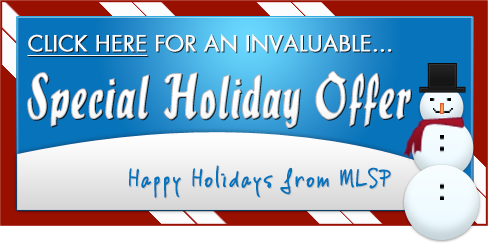 As you probably also know, I recently went to the second annual MLSP event, Live the Dream Event II in Orlando, Florida. 
Last year, I attended Live the Dream Event I in Las Vegas. 
I have to say, these 2 events have literally changed my life and my business FOREVER. 
The training that MLSP provided by the top leaders and earners in the industry was second to none… and attending these Live the Dream events has also given me the opportunity to get to meet and hang around with people like Rob Fore, Tracey Walker, Mark Hoverson, Todd Falcone, and so many others.
 Listen up… this is exciting!
MLSP decided to create a holiday special so that if you missed the Live the Dream Event (this year or last… or both), you can now get access to the whole thing on DVD for a steal during this special! 
If you're serious about taking your business to the next level, you do NOT want to miss out on this…Â 
Go now… the special ends Friday!
These Live the Dream DVD's are an awesome way for you to not only educate yourself and give yourself an unbelievable advantage over you competitors, but they will also help you build your belief about the network marketing industry and what's possible here.
I honestly cannot think of a better gift that you can give yourself…
Here's a picture of me that was taken at the MLSP Live the Dream II Event this year in Orlando. In my hand I'm holding my newly published book, MLM for MOM- Why Network Marketing is a Natural Fit for Mothers. The first copy of my book was actually overnighted to my hotel in Orlando by the publisher so that I could have it on time for the Live the Dream event.
Why does this matter? Here's the significance… it was a session at the MLSP Live the Dream I Event a year prior that actually motivated me to get my book written. So, exactly a year later, I came back to the event with my newly published book…
This is what I mean when I talk about the golden nuggets that can come out of having access to the content of these Live the Dream events…
MLSP doesn't mess around either. These events are first class all the way, and they round up some of the top leaders in the industry who whole heartedly share their secrets, their wisdom, and their inspiration.
I'll get off my soapbox now… I just don't want you to miss out on some of the best training you'll ever receive inside of the network marketing industry.
Remember, the only investment where you'll always get a guaranteed return is in yourself. 🙂
Happy holidays from me and MLSPÂ and I'll talk to you soon. Let's Live the Dream together in 2012…
Expect Abundance,
P.S. It's NEVER been THIS affordable to get $1850 worth of Marketing Training:Â == >Go here to get yours now.